Selecting the right towing service for your business is an important decision. With so many towing companies available, it can be difficult to know which one to choose. To make the process easier, Doug Yates Towing & Recovery discusses five tips for choosing a towing service for your business. By considering these points, you can ensure that you select the best towing company for your companies needs.
five Tips TO Help You Choose A Towing Service
Do your research
Before making a decision on which towing service to hire for your business, it is essential to do your own research. Start by searching online for "towing service near me" and make a list of the available options in your area.
Look for a company with a good reputation and consider factors like cost, services offered, and customer reviews. Make sure to check out reviews on their website as well as third-party review websites. You can also reach out to other businesses in the area to get their opinion and ask for referrals.
Additionally, check to see if the company offers roadside assistance services. This could be a great option for businesses that require regular tows or need emergency roadside assistance. It's important to know what services are available and how they can help you in case of a breakdown or accident. Finding a reliable towing service can help reduce costs and provide peace of mind when something unexpected happens.
Ask for referrals
If you're in the market for a towing service for your business, one of the best ways to start your search is by asking friends and family who they might know. Ask around and do some networking – you may find someone who can provide a referral to a reputable towing service near you. If no one you know has an answer, don't worry. You can always turn to online sources or search engines such as Google to find "towing service near me" and see what results come up. At the end of the day, save time and call us at Doug Yates Towing & Recovery.
What Services Do They Provide?
When considering which towing service to choose for your business, it's important to look into the services they offer. Doug Yates Towing & Recovery offers 24/7 towing and recovery services for all motorists and vehicle types, making them a one-stop shop for all towing, hauling and truck repair needs.
Light-duty towing services include the removal of abandoned vehicles, towing vehicles away from private property, and recovering vehicles from accidents. Light-duty tow trucks use a cable and winch system and are also used for roadside assistance and routine services.
Recovery towing services involve extracting vehicles from ditches, mud, underwater, or from a rollover accident.
This requires heavy-duty equipment like a crane and mechanical winch. If you're looking for a reliable towing service near you for any type of roadside assistance or recovery needs, consider Doug Yates Towing & Recovery.
Check Their Reviews
Before committing to towing services for your business, it's important to research the company and check their reviews. Look online on sites like Google and Facebook to get an idea of the reputation of the towing service. Reading reviews is a great way to learn more about the quality of the service they provide and any potential customer service issues.
You can also search for 'towing service near me' or 'roadside assistance' on these sites to find local services. By taking the time to read up on the reviews, you'll be able to make a more informed decision when choosing a towing service for your business.
Consider Pricing
When it comes to towing, you may be tempted to go with the cheapest option. However, it is important to consider the prices when deciding on a towing service. A full service shop typically offers a variety of services, such as oil changes, tire rotations, and brake repairs. These services can sometimes be more expensive than doing the work yourself. Furthermore, a full service shop can save time and money in the long run, as they are more likely to use quality parts and have experienced technicians.
If you are looking for an affordable towing service near you, do your research and ask for referrals. Compare prices between companies and read reviews from other customers. Additionally, inquire about roadside assistance packages that may include discounts for services like flat tire repair or jump-starts. With the right research, you can find a reliable towing service that fits your budget and provides the services you need.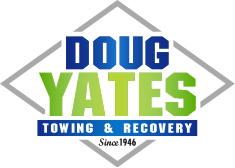 Looking For A Quality Towing Service? Call Us Today!
Doug Yates Towing and Recovery is located in the city limits of Chattanooga, one of Tennessee's most vibrant business communities. Since 1946 it has been the company's mission to conduct business with integrity and professionalism in all phases of day-to-day services. We offer 24/7 towing and recovery services for all motorists and vehicle types. Our team of tow truck technicians will help get your vehicle wherever it needs to be safely and securely. You can count on us for all your towing & recovery needs.