Anyone can be involved in a highway accident. Whether it was your fault or not. Being involved in an accident can be scary and confusing. You may feel hurt and disoriented, but you should never admit fault for the incident. Regardless of who is at fault, you may need to find a "towing service near me". Most often, the vehicles cannot be driven safely away from the accident scene. Remember the following tips to get yourself, the motorists, and passengers to safety with as little hassle as possible.
A Highway Accident Can Be Disorienting
If you're involved in an accident on the highway, it may be difficult to tell what happened and how bad your injuries are. After a collision, it's essential to check for injuries by doing a quick physical assessment. This will help you determine if you need emergency medical attention, should you need assistance from another driver or someone nearby, or if it's safe for you to continue driving or evacuate your vehicle on your own.
Check For Injuries
First and foremost, check yourself for injuries. If you have any cuts or bruises, get them checked out by your doctor as soon as possible. When a car accident occurs, there's always the possibility of someone suffering from whiplash or other serious injuries that must be treated by a medical professional.
Many people in a car accident don't realize that they may have injuries that won't show up for hours or days later. You should always check yourself for injuries after a car accident. Call an ambulance immediately if you feel pain, dizziness, or other symptoms of injury.
Other people who were involved in the crash will also need emergency care. Make sure everyone is safe before you leave the scene of the crash. The police or paramedics may not arrive for several minutes, so do what you can to help those who need immediate attention.
Call Emergency Services (Police/Ambulance)
If anyone is injured or there is any severe damage, call 911 immediately. If no one has been hurt and there is minimal damage, it might be best to wait until you have spoken with the other driver before calling the police.
Get To Safety
Try to get out of traffic while waiting for emergency help to arrive. If the roads are clear, move your vehicle to a safe place off the road and turn on the hazard lights. If you cannot move your vehicle off the road due to traffic or weather conditions, get out and stand as far away from your vehicle as possible so that emergency responders can see you easily.
Gather Evidence
If there are witnesses to the accident, ask them to write down what they saw and their names and contact information. Witnesses will be important if there's a dispute about who was at fault for causing the crash.
You should also take pictures of both vehicles at the scene of the crash and any injuries you may have sustained. These pictures can be used later when filing an insurance claim or seeking reimbursement from another driver's insurance company for out-of-pocket expenses (e.g., medical bills).
Exchange Information
Exchange information with anyone else involved in the crash, such as names, addresses, phone numbers, and insurance companies, so they can be contacted directly by their respective insurance companies if necessary.
Avoid Discussions of Responsibility
It is essential not to discuss who was at fault with anyone else involved in the crash, as this could come back to bite you down the road. Instead, focus on getting medical attention for yourself or other injured parties if needed. Call your insurance company immediately afterward so they can begin working on getting everything taken care of for you as soon as possible!
Call Doug Yates Towing & Recovery If Needed
If your vehicle is not drivable, call a towing company like Doug Yates Towing & Recovery. The police may recommend one, but it is always best to go with a tow company you have positive experiences with.
Call Your Insurance Company
If you have auto insurance coverage, contact your insurer immediately after an accident. You will need to file an insurance claim with them so they can pay for any damages sustained by both parties involved in the crash. Make sure to keep detailed notes about how much money you need from them so they can reimburse you fully once they investigate the incident.
See Your Medical Professional (If Needed)
If injuries occurred during an accident, see a medical professional immediately. Even if injuries aren't immediately apparent after an incident occurs, they could develop later on — especially if you have any chronic conditions such as diabetes or heart disease — so it's essential to get checked out right away. This will help ensure that no permanent damage is done by any injuries sustained during a crash.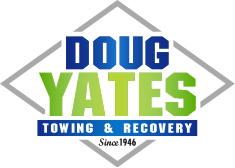 In A Highway Accident? Need A Tow? Call Us Today!
Doug Yates Towing and Recovery is located in the city limits of Chattanooga, one of Tennessee's most vibrant business communities. Since 1946 it has been the company's mission to conduct business with integrity and professionalism in all phases of day-to-day services. We offer 24/7 towing and recovery services for all motorists and vehicle types. Our team of tow truck technicians will help get your vehicle wherever it needs to be safely and securely. You can count on us for all your towing & recovery needs.